Date Night Lamb Shanks.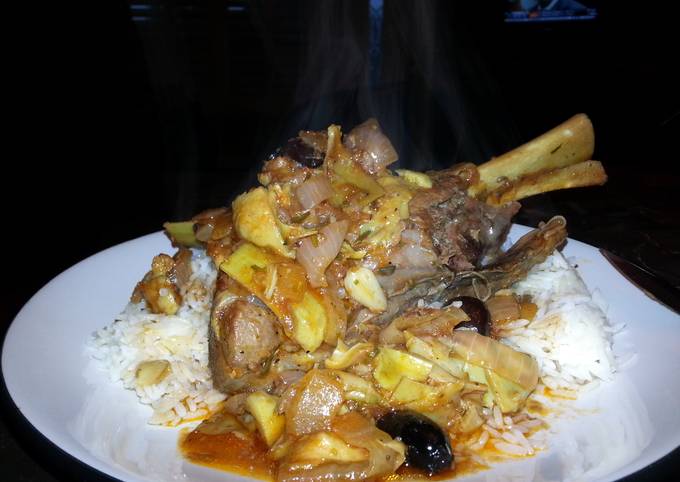 You can cook Date Night Lamb Shanks using 11 ingredients and 6 steps. Here is how you achieve that.
Ingredients of Date Night Lamb Shanks
You need 2-4 of lamb shanks (Make sure your Dutch oven or heavy pot will hold that many).
It's 1 of salt and pepper.
Prepare 1 of Extra Virgin Olive Oil.
Prepare 1 of large onion (red, yellow, white... whichever you prefer).
It's 10-12 of garlic cloves whole (don't chop smaller than 1/2 if prefered. They cook up sweet).
Prepare 1 of Fresh rosemary chopped (about a palm full or two tbls).
You need 1 can of articokes (12 in a can)... I'll slice in half as well.
Prepare 1/2 cup of pitted Kalamata Olives halved.
Prepare 1 cup of basic tomato sauce **see my other recipe**.
You need 1 cup of Favored dry white wine (I like pinot grigio or sauvignon blanc).
It's 1 cup of chicken stock.
Date Night Lamb Shanks instructions
Preheat oven to 375ºF.
Rinse/Pat dry lamb shanks and season liberally with salt and pepper. Using your large heavy bottom pan (Dutch oven/Cast iron pot) drizzle olive oil to coat bottom well (5-6 tbsp) over stove top at med heat. Sear shanks on all sides then remove from pot (set aside)..
To same pot add onion, garlic, artichokes, and rosemary and cook until onions become translucent/soft. Then add olives, wine, sauce, stock and bring to a boil..
Add the lamb back to the pot and submerge into the liquid atleast 3/4 in thickest part of shank submerged (add more stock/wine/sauce in equal parts if necessary). Cover tightly with lid and place into oven..
Cook for 1 hr 45 min to 2 hrs turning shanks once half way through cooking time. I find 2 hrs is best. The meat falls off the bone. :).
Remove from oven and serve! I plate some mashed potatoes or rice and sit the shank right on top and spoon all the goodness it cooked in on top!.