Santa cookies. Immediately remove from cookie sheet to wire rack. Dip one end of each cookie into melted chocolate, allowing excess to drip off. In a large bowl, use a whisk to combine the flour, salt and baking powder.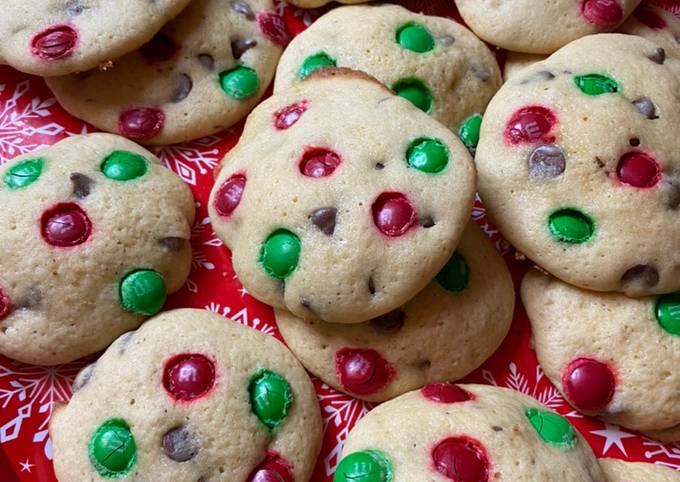 Have I mentioned it's just me and my husband at our house? These super-cute and customizable Santa cookies started with an unbelievably easy twist: turning a heart-shaped cookie cutter upside down. With that simple move, the pointy end becomes Old St. You can have Santa cookies using 11 ingredients and 10 steps. Here is how you cook that.
Ingredients of Santa cookies
Prepare 2 1/4 cups of all-purpose flour.
You need 1 teaspoon of salt.
It's 1 teaspoon of baking soda.
Prepare 2 sticks of unsalted butter, softened at room temperature.
It's 3/4 cup of brown sugar packed.
It's 1/4 cup of granulated sugar.
You need 1 teaspoon of vanilla extract.
Prepare 2 of large eggs.
You need of large egg yolk.
It's 1 cup of chocolate chips.
Prepare 1 cup of Christmas M&Ms.
Nick's hat and the lobes of the heart make a full and fluffy beard. Adorable Santa Cookie This Adorable Santa Cookie has him carrying a green bag of toys over his shoulder as he is about to go down the chimney. Decorated Santa Cookies with Cute and Simple Hibiscus Cookie with a Video Tutorial www.thebearfootbaker.com Enter these easy, rolly, polly, Santa cookies. The idea is to take simple sugar cookie dough, roll it into tiny balls, attach them together into a "Santa" body, and bake.
Santa cookies step by step
Preheat oven to 350 degrees. Line baking sheets with silicone mats or parchment paper..
In a medium bowl, combine flour, salt and baking soda. Set aside..
In a large bowl, cream together butter, brown sugar, granulated sugar and vanilla extract until light and fluffy..
Beat in eggs..
Gradually stir in flour mixture by hand until smooth..
Then fold in the chocolate chips..
Using a cookie dough scoop, divide dough and roll into balls..
Place on baking sheet and slightly press down the top.
Place the M&Ms on top of the cookie dough on the cookie sheets and light press them down into the dough..
Bake 8-10 minutes or until lightly golden brown. Allow the cookies to set on the baking sheet for 5 minutes and then transfer to a wire rack to cool completely. Store in airtight container and enjoy!.
If you use the photos as guides, it's the easiest sugar cookie you will make. Not to mention, so much fun! Santa & Cookies &. the long way . Sprinkle top third of cookie with red sugar (to make Santa's cap). Press on miniature marshmallow for tassel of cap.